And we mean NOTHING!
Many people will consider the pros and cons of being in a polyamorous relationship with their partner and many people will never allow themselves the opportunity to explore this further. I guess the thing is, by putting the idea out there to your partner you can't exactly detract it if it doesn't go down well. It's a leap, it really is and it is a leap hundreds of thousands of millennial couples are taking right now.  The nuclear family, in its traditional sense, is lost; we are no longer captive to the idea of family and marital monogamy- it doesn't make sense anymore, it's unnecessary in a secular society. Saying that change is testing and it takes courage and strength to break out of the previously accepted norms and routines introduced to us by our forefathers. So then, what do I suggest? I suggest you test the waters before making a lifestyle decision that you might not be able to go back on. Does that sound like a sensible decision to you?
I know what you're thinking… How, right? How can you determine whether the benefits of two (plus) partners' are really for you? And how can you determine this in a way that employs discretion? The answer? Well for you and thousands of others that want to explore themselves sexually is an erotic massage. The answer specifically to determine how poly you really are is to get yourself a four hands massage.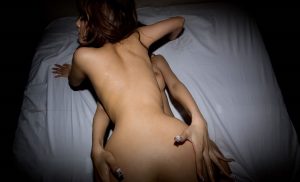 What's a four hands massage?
Let's start with the basics. A four hands massage is an erotic massage style that involves getting massaged by not one but two beautiful, professional erotic masseuses simultaneously. If you were to go to one of our exquisite erotic massage parlours in Central London or alternatively got an outcall four hands massage to wherever you like (in London) then you can opt to get this sensual massage style with either a happy ending or full service massage.  This enables you to truly experience a sexual encounter with two ladies at the same time.
How does this help?
You may be uncertain as to how getting a four hands massage can, in fact, help you transition from monogamy to polyamory- or even enable you the opportunity to see if it's really for you. Now I can try and persuade you until the cows come home but why would I do that when I can show you…
And show you I can! With many of our clients choosing four hands massage for this very reason, I have asked several of them to give an insight into their experience. All accounts have been submitted anonymously and to those that did submit, I would like to say a big thank you and my hope you realised that by wavering your privacy you may help hundreds if not thousands of people in a similar boat you once were.
So let's get started.
First up we have 'Tony', a 38-year-old builder from Watford.
Now you might think that because I'm a lads lad it wouldn't be hard for me to get my leg over with multiple women at one time but this just isn't the case. The community I am from has a strong belief in monogamy if one of the lads cheated on their girlfriend or even kissed another lass on a night out there'd be hell to pay. I've often wondered about polyamory as I really struggle to keep interested in just one person at a time. Now you might think that makes me seem like a dick head but now after getting a four hands massage, I have the confidence to fight back- because if that is what you think; you're the dickhead. Sorry, I don't mean to have a go but it's one thing to have a personal opinion about how you believe you should live your life and it's another to dictate how others live there's. Now I'm not embarrassed to say this but I had never experienced an orgasm until I got a four hands massage. Someone people get turned on by their partner dressing up, I get turned on by having multiple partners at once. Now I don't care what people think, and that's thanks to four hands massage.
Then there's Callum 32, a banker working in The City.
I and my girlfriend both got four hands massage in a bid to see whether we would be interested in exploring is kinkier sides. We watched a documentary about swingers and both couldn't contain how much it turned us on. We thought about checking out Swingers parties and the like but we felt daunted at the prospect of ending up in a situation with strangers that we were not certain we really wanted. For us getting four hands massage by trained professionals was the perfect bridge. It didn't feel like we were breaking any rules with each-other as there were no personal feelings involved and it was just as though we were both getting a massage- the twist of course meant that we were able to explore ourselves sexually with our masseuses. The results? We determined post- four hands that poly is the way for us. We are now collectively seeing and sharing 5 partners and neither of us could be happier!
Ricky is a musician that works mostly between Brighton and London, he is 28, the youngest of our study.
Now you might think that we millennials are totally free to explore every sexual avenue that catches our eye but what you are forgetting is that us Millenials are also the most anxiety-ridden adults that have probably ever lived. I blame the internet! I mean my granddad fought in world war two and I'm the one that struggles to look people in the eye! I think it is really important to explore yourself sexually and I believe healthy sex life can improve tons of things; both your mental and physical health. Also, I believe a healthy relationship with sex means you have a better understanding of your own body. It was this that led me to get my first erotic massage and it was my curiosity to discover whether poly was for me that led me to try four hands. I've got to say I've never had a better sexual experience than I did having four hands. It was so intense and so pleasurable, I swear I orgasmed for ages. I was exhausted after but in a good way? For days the positive endorphins bounced around my body and had me skipping with joy. If you've not tried it, I'd 100% tell you to go for it.